Delicious Sweet Corn Fritters are simply delightful and make a fabulous addition to any meal. They are especially good paired with nearly any grilled meat such as brats, ribs, burgers, chicken, pork chops, or a big slice of ham.
To help support our blogging activities, our site contains affiliate links. If you make a purchase from a link on our site, we may receive a small percentage of that sale, at no extra cost to you. Blessed Beyond Crazy is a participant in the Amazon Services LLC Associates Program. This affiliate advertising program is designed to provide a means for sites to earn advertising fees by advertising and linking to amazon.com
Growing up on a farm meant that we always had an abundance of fresh garden produce. In fact, we planted not one, not two, but THREE gardens. One of the three gardens was specifically for growing sweet corn.
Along with Sweet Corn Fritters, a few of our other favorite corn recipes are:
Amazing Sweet Corn!
Fresh sweet corn is a staple summertime food here in the Midwest. You'll often find it at a BBQ, carry-ins, and other family gatherings. Sweet corn can also be purchased from some local farmers, roadside stands, or Farmer's Market.
If you do a little homework you'll quickly find that sweet corn has many health benefits. It is a good source of Vitamin C and contains many B vitamins and essential minerals. This starchy vegetable consists primarily of insoluble fiber and therefore it is a low-glycemic index food. However, diabetics need to be aware that about half a cup of corn counts as one carbohydrate food choice.
Read > How to Freeze Fresh Sweet Corn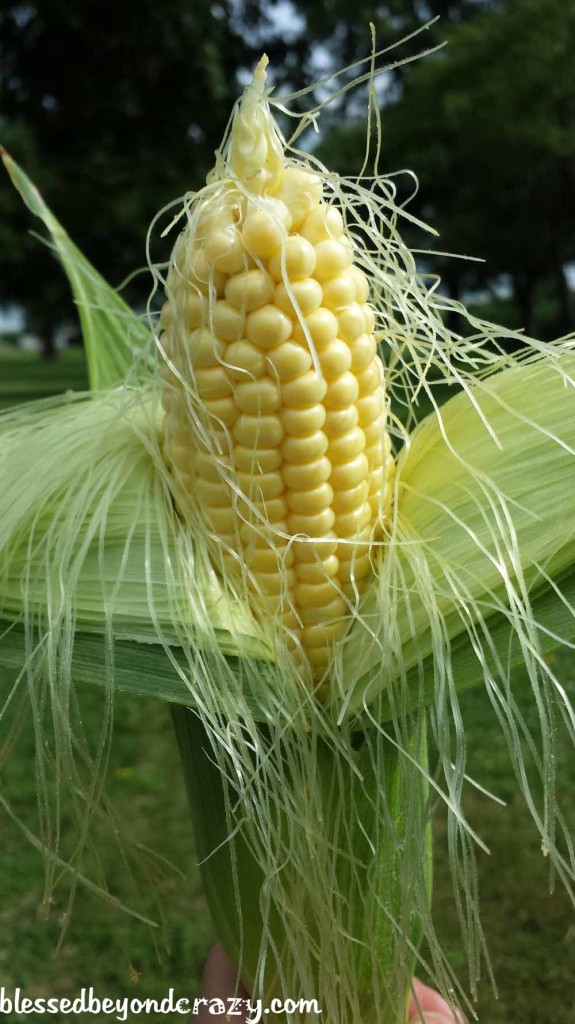 As you know, succulent sweet corn can stand alone, cooked, and slathered with a dab of butter and a sprinkle of salt. You can also coat the corn with herbs, and seasonings such as Cajun, chili, or curry powder. Another idea is to coat the corn with pesto and/or parmesan cheese.
Sweet Corn Fritters require the following vegetables: whole kernel sweet corn, an onion, a bell pepper, and spinach (optional). You can also add diced jalapeno if you so desire. In addition, you'll also need eggs, sour cream, dry mustard, Worcestershire sauce, salt, cayenne pepper, bread crumbs, and quick-cooking oats.
As a topping serve Sweet Corn Fritters with a side of homemade or purchased aioli or salsa.
Yield:

Serves 9
How to Make Sweet Corn Fritters
Additional Time:
25 minutes
A delicious and easy-to-make gluten-free side dish that pairs well with all kinds of grilled meats or meatloaf.
Ingredients
3 Tablespoons butter
3-1/2 cups fresh whole-kernel corn or frozen corn, thawed
1/4 cup chopped onion
1/4 cup chopped bell pepper (either red, yellow, orange, or green) Feel free to add a diced jalapeno if so desired.
1 cup chopped spinach (optional)
2 large eggs, beaten
1/2 cup sour cream
2 teaspoons dry mustard
1 teaspoon Worcestershire sauce (GF Option - use a gluten-free brand)
1/2 teaspoon salt
1/4 teaspoon cayenne pepper
1 cup breadcrumbs, divided (GF Option - use gluten-free breadcrumbs)
1/4 cup quick-cooking oats (GF Option - use gluten-free oats)
olive oil for frying
Optional - aioli or salsa as topping
Instructions
Melt butter in a large skillet. Add corn, onion, bell pepper. Cook until onion and peppers are soft (about 4-5 minutes); cool.
Whisk together eggs, sour cream, mustard, Worcestershire sauce, salt, and cayenne pepper in a large bowl. Stir in the cooled corn mixture. Fold in breadcrumbs, quick-cooking oats, and chopped spinach. For better handling, chill the mixture in freezer for 10 minutes.
Use a 1/3 cup measuring cup to make 9 (1/2-inch) patties; place on a parchment-lined cookie sheet and freeze for an additional 15 minutes (makes the patties easier to handle).
Heat oil and butter in a large skillet over medium heat. Cook patties for 8 to 10 minutes or until golden brown, turning halfway through.
Serve hot with aioli or salsa. Refrigerate leftovers.
We also like adding corn to old-fashioned vegetable soup, and hearty bean and hamburger soup. Different ways to fix sweet corn really are quite endless.
What's your favorite sweet corn recipe?
Enjoy!
Linda
More great ideas: